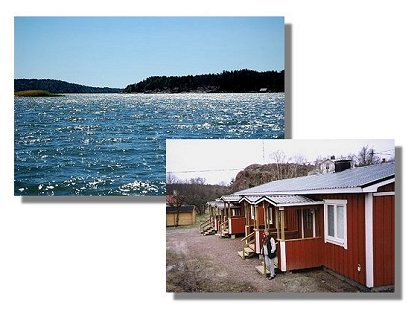 43 km from Mariehamn, 1 hour by car. 5 km from Hummelvik's archipelago ferry harbour
Comfortable accommodation with good standard in beautiful surroundings.
Accommodation: Two guesthouses; the main building renovated in 2000, and the new guesthouse built in 2002 (hotel standard, private entrance). Two cottages and annexes are situated in the same farmstead surroundings.
ROOMS & COTTAGES: 19 rooms for 1–6 persons and 2 cottages for 2-4 persons. 60 beds in total.
COMMON PREMISES: Dining room for 45 persons with an outdoor terrace. Meeting-room with a kitchen for 45 persons. Patio with a gas grill for 45 persons.
GETTING THERE: The northern archipelago line Kustavi-Vårdö-Kustavi (car + passengers at favourable prices according to tariff no. 1. NB.
Ferries from Sweden: Grissleham-Eckerö, Stockholm-Mariehamn, Kapellskär-Mariehamn
ACTIVITIES: Golf driving range, boule, table tennis, badminton, darts. A limited number of bicycles for rent. 1.5 km to the closest bathing beach.
SIGHTS: The distances are short and in one day it is easy to discover the Åland nature as well as several cultural sights, including Kastelholm Castle, Prison Museum and Open-air Museum on the way to Mariehamn where we recommend the Museumship Pommern, the Maritime Museum and the recently opened swimming hall and spa (www.mariebad.net). In Eckerö the Hunting & Fishing Museum and the Game Safari are worth a visit.
SCHOOL CAMPS: The hostel offers excellent surroundings for camp schools and other youth camps. Favourable prices for groups.