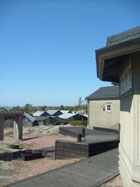 Visiting information
Getting here
The Museum is situated in Käringsund, Eckerö, by the old fishingharbour and the sea.
From the village Storby in Eckerö there are good roadsigns pointing towards Käringsund. If you arrive by EckeröLinjen turn left in the roundabout in Storby, just 1,5 km from the harbour, drive 1,5km. There is also a nice naturepath from the harbour to the museum, lenght about 800 m. From Mariehamn it is 30 km with good busconnections. For timetables go to Ålandstrafiken
Accessibility
Impaired mobility
The museum and all exhibitions are adapted for wheelchairs.

At the entrance there is a ramp. We have one accessible toilet. No automatic door opener, but the personel can help if needed.


Visitors with small children
For visitors with children it is easy to move about in the museum with a baby carriage. We have one stroller that can be borrowed during a visit. There is also a diaper changing table in the restroom.

Allergies
We have mounted animals in the museum and they can give allergic reactions toghether with dust. We have no allergy-producing plants in the museum.


Dogs and pets
Pets are not allowed into the museum. However, guide dogs or service dogs are of course welcome.

Food and drinks or Picnic
There is no cafe at the museum, but nearby you will find nice places for a cofffebreak or lunch. If you like to bring your own picnic please use our cosy backyard or the area in front of the museum for this purpose. It is not allowed to consume any food indoors.



Activities for the children
There is a lot to do for the family. The children can play indoors, we have a playroom where they can get familiar with and old marketplace and there is also oppurtunities to make drawings. Outdoors your children can go pearlhunting and make themselves a necklace.
The Museumshop Havsboden
The museumshop is free to visit and open during museum opening hours. We have a variety of postcards, posters, books, souvenirs and handicraft. For our younger visitors there is a selection of soft toys, for examples fishes, elks and hedgehodges. In the shop you can use both euro € and swedish currency.
Whats on 2013
13.5-8.6 monday-saturday 10-17
9.6-11.8 every day 10-18
12.8-31.8 monday-saturday 10-17
Free entrance on the international museumday the 18th of May
We are open during midsummer, midsummer eve 10-16
After 31.8 and during the winter, we are open by agreement, bookings preferably 3 days ahead.